---
e-Pro: professional auditing framework
e-Pro
Professional auditing for computerized meters

e-Pro provide an auditing framework for computerized e-meters. Stop wasting precious time auditing your clients or going solo eyes shut. e-Pro will manage for you all of those boring operations like recognizing reads, writing down notes, retrieving and running processes and so on helping you focusing on the real business.
E-Pro can be adapted to any computerized meter providing connection specifications. It now works for the C-meter and the Mindwalker 3, a superb device by Nic Ford, (check out http://www.inquisitive-instruments.co.uk).
____________________________________________________________________________

NEW!!! Coming soon.
Have your meter work on any mobile phone, palm computer and PDA!!!
Yes, this new exciting project e-ProMIDlet, being based upon the Java technology (J2ME MIDP 2.0), will allow to your meter portability and instant connection anywhere!
Let your meter be the tiniest!


---
e-ProWin

e-ProWin runs on any Windows operating system.

Here are the major enhancements and new features:

- Audio feedback. It can work in four modes: 'audio feeling', 'audio pulse', 'speak out' and 'silent'. This may be helpful for soloers going 'eyes shut'.
- Automatic read detection and measurement (i.e. LFBD 0.27).
- Automatic sensitivity adjust (squeeze cans and have the sensitivity level automatically set).
- Needle reads automatically or manually written down to the text window.
- Read speed measure (this can be indicative of the content in reactivity) .
- Automatic programs to run a process. You can easily run a process solo. Commands are spoken out loud and cyclically repeated at each read. - Needle reset (manual or automatic).
- 20 seconds of historic recording on screen.
- Faster and enhanced graphics.It runs even on very slow computers, being designed with low-level Windows programming.
- 7 tabbed text pads to easily write down notes, load and save processes.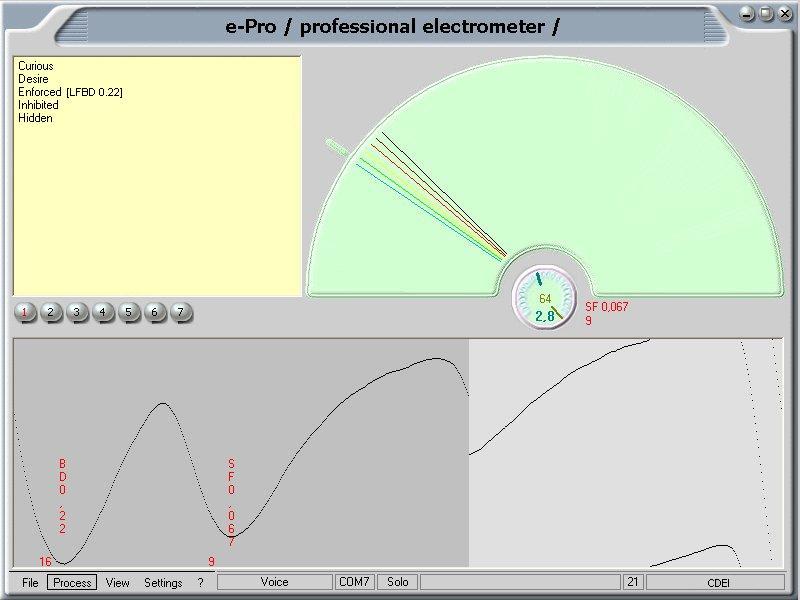 Four different semitransparent modes.
Have fun peeking at your meter while working, surfing the Net or reading an e-book using the four semitransparent modes.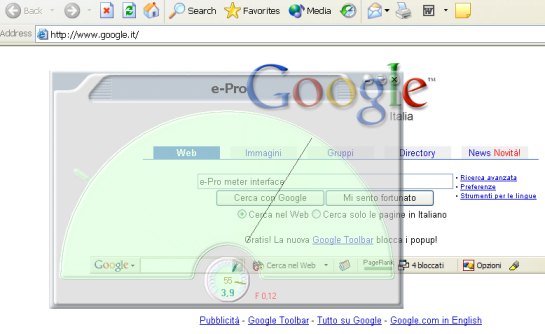 Dr. Marco Cecchi, M. Sc.
Via M. Moretti, 4
47900 RIMINI - ITALY