Mindwalker 2
and Mindwalker 3
Mindwalker 2
| | |
| --- | --- |
| | Front view showing the dial, baseline position and counter displays and meter controls. |
| | Side view showing the electrodes and serial connections. |
The mindwalker 2 is a meter that is suited to both beginners, (lower cost and simplicity), and professionals who require a portable advanced instrument.

The mindwalker 2 fulfills the following requirements:
How to Order
The basic price is 300 GBP including delivery.
EU price 352.50 GBP inc tax.
Outside EU local taxes apply.
Solo or Duo electrodes are available, priced at 15 GBP each
For payment details and to order, email nic@mindwalker.co.uk
For background information on the uses .
Visit http://www.mindwalking.de/ for a typical application of the meter.
Data regarding the earlier model (mindwalker 1) is available here.
---
Mindwalker 3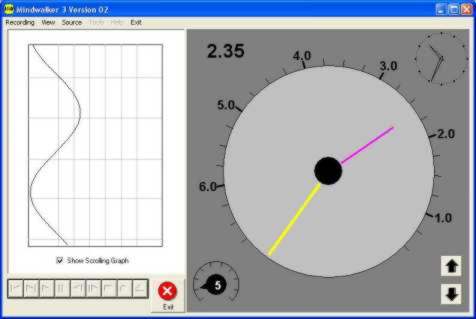 Manufacture of the new Mindwalker 3 hardware is complete and orders are now being taken.
Mindwalker 3 Standard Features
USB or Serial Port interface, self powered (no batteries required)
Much improved smoother continuous graphical display (click here to download a demo)
Full technical specification available for 3rd party software developers
Built in radio receiver module -see below
Data recording directly to Excel
External trigger input (records the occurrence of an external event with the data file)
Size: 95 x 60 x 23mm (3.8 x 2.4 x 0.9")
Weight: 85gm (3oz)
Mindwalker 3 Options (in development)
Small wireless transmitter (about the size of a matchbox) for electrodes
Custom firmware upgrades to provide hardware integration with scientific data capture software such LabView
Fingertip electrodes (to complement the wireless transmitter)
Recording of data and voice to audio format such as Minidisc
Pricing
Basic unit £280 or US $450.
Solo electrodes £15
Duo electrodes £15
Discount is available for previous C-meter clients (ask for details).
Payment by visa credit card or bank transfer.
Contacts us
Click here if you require further information or clarification.