Featured FreeZone Earth Product



"The Attention Bit Locator"
A high quality, professional GSR meter, delivering matchless performance for the discerning user.
<![if !vml]>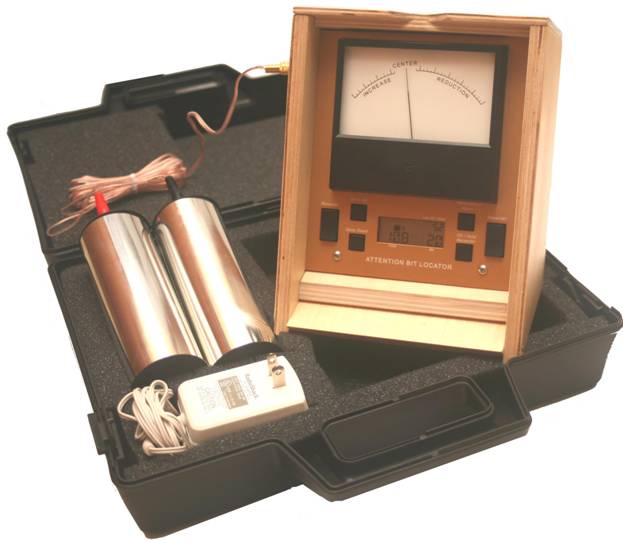 <![endif]>
GSR Meter Basics
A GSR meter is a precise electronic instrument that is sensitive enough to register when an area, subject or item that is out of the control of the client is contacted. It does this by measuring the resistance of the life-force that is locked up in the AVOIDED or FIXATED areas.
In operation two hand held electrodes are used to pass an extremely small current through the client's body, with changes in resistance of the life force being displayed on a large analogue dial. It has a wide range of sensitivity that can be boosted to pick up the most deeply hidden areas of avoidance or fixation
Highly sensitive indicator dial
The ABL design incorporates a clear, accurate, 4.5" indicator dial with special ballistics, to show increase or decrease of resistance.
Large, easy to read LCD
This display shows the following parameters:
· Current Resistance Value (TA) display 1.0 to 7.1
· Last Resistance Value display 1.0 to 7.1
· Re-settable Reduction Amount accumulator (TA counter) 00.0 to 99.9 retained during power off.
· Adjustable sensitivity 16, 32, 64,128 & 256.
· Re-settable session timer 0:00 to 9:59
"No twiddle" re-centering
The unit provides single touch re-centering of the needle to the set point by pressing a single button, Buttons for this function are located on the right and left hand of the unit to cater for left and right handed practitioners.
Great for solo use!
For solo usage, an automatic re-center function may be enabled. This function monitors the resistance value and triggers when the needle reaches close to the ends of the dial, bringing it back to the set point without any user intervention. This allows true "single handed" operation.
Powerful "goodies" at no extra charge!
Other powerful additions are a "client anti-fidget" feature to guard against incorrect Reduction Amount accumulation, a pause mode for session breaks, single touch power-on and auto power off after 3 hours of no needle movement.
State of the art design
The ABL is designed with state of the art electronics that provides a completely analogue path from the electrodes to the meter movement. This
Power is provides by leak proof, low maintenance re-chargeable batteries that provides 70 to 90 hours of continuous operation from one 14 hour charge. A trickle charge mode is provided to maintain batteries in a fully charged condition.
Furniture quality casework
The ABL is housed in a uniquely designed; hand made and finished furniture quality wooden enclosure. All models are supplied is a compact, sturdy carry case and comes complete with electrodes (standard or solo), leads, charger and instruction manual.
Price
In keeping with the precision, accuracy and features of this great product, the standard model is priced at $1100.00, plus tax, shipping and handling and comes with a one year no-quibble warrantee.
Options
Options include custom wood types and finishes. The photograph below shows a unit in Chechen, a very hard and exotic wood. All finish options are quoted and built to order.
<![if !vml]>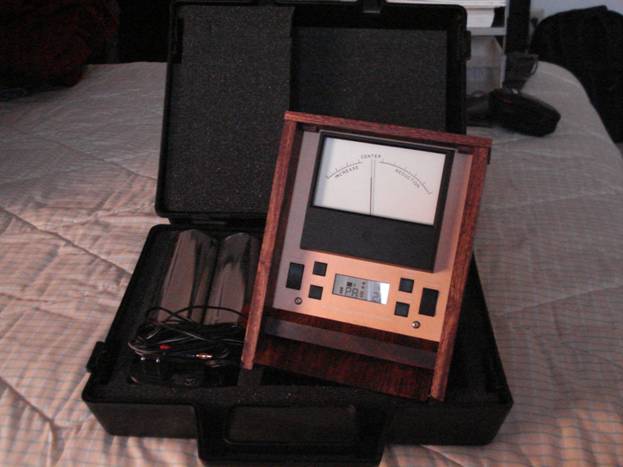 <![endif]>

Malcolm Bugler
Malvatronics Inc,
300 Hylan Drive, #161
Rochester, NY 14623

Tel: 585 503 7328
Email: malcolmb@malvatronics.com