Rules
There are several rules which we expect you to observe while you are getting Clearing. These rules are not based on morals or opinion, but on the experience with thousands of cases. A preclear doesn't get results if these rules are violated.
DRUGS. Do not take drugs while being cleared. This includes sleeping pills, tranquilizers, pain killers (including aspirin), diet pills, antibiotics, sedatives, or stimulants. Vitamins are not considered drugs.
Depending on the drug taken a short or long dry-out period is needed. Particularly any recreational drug that produces "trips" requires a considerable period before clearing is possible again.
ALCOHOL. Do not drink alcoholic beverages during the 24 hours preceding your next clearing session. This means no beer or wine as well as the stronger beverages.
SLEEP. Get enough sleep before your clearing session. You should get enough sleep to feel well-rested, not just enough to keep going.
EATING. Eat well while being processed. If you have a session in the morning, eat a good breakfast. Never skip a meal before your clearing session.
APPOINTMENTS. Once you made a clearing appointment, please keep it and be on time. A missed appointment can be charged as minimum time.
UPSETS. Avoid persons, places, and situations which you know will upset you.
SAFE ENVIRONMENT. Your clearing practitioner is a safe person who is interested in your welfare. Do not hesitate to ask or tell him anything.
CONDUCT. Do not do anything you know is dishonest or unlawful.
OTHER PEOPLE. If you are connected with someone who is against your being cleared or who invalidates your gains (or if there is someone from whom you must keep your clearing a secret), it is essential that you tell the clearing practitioner about it.
PHYSICAL HEALTH. If you have a physical problem or condition to be handled, make this known right away. You may be required to have a medical examination prior to getting clearing.
DO NOT DISCUSS YOUR CASE. It is very tempting to tell your friends and relatives all the details of your clearing sessions. Don't. It will not help you (or them) and it can be very restimulating.
YOUR OWN DETERMINISM. In order for clearing to be effective, you must be here on your own determinism. If someone else talked you into clearing and you don't really want it yourself, tell the practitioner immediately.
OTHER PRACTICES. Do not mix other practices with clearing. That includes psychoanalysis, psychiatry, yoga, hypnotism, meditation, spiritualism, mysticism, extreme dieting, marriage counseling, etc. If you are under medical treatment, discuss this with your clearing practitioner. Under some circumstances, clearing can occur in conjunction with such treatment.
While in the session, do not confuse clearing with other practices. Don't expect the clearing practitioner to "interpret" for you or tell you how you are progressing. We don't deal with ink blots, analysis, voodoo, or mysticism. In clearing it is important
that the preclear participate and understand what is happening for the best results to occur.
Unlike other practices, the preclear is not encouraged to start talking and ramble on about everything that comes into his head. The clearing practitioner uses precise, controlled communication. He asks specifically for one thing at a time. One subject is fully handled before another is addressed.
If you sit in the preclear's chair waiting for some mysterious thing to happen to you, you will not make progress. Clearing is not mysterious. You can and should understand what is happening. The practitioner directs, guides, and listens; but it is you, the preclear, who does the work and who makes the gains.
DO NOT DO SELF-CLEARING. Don't try to clear yourself. You should have the strength and guidance of a professional when you go exploring the reactive mind.
Some people self clear compulsively without realizing it. Watch for this. You can lose your state of release. Do not finish a session, then go home and "review" it all over again. Do not ask yourself questions such as "Why do I do this," or "I wonder what makes me feel that way..."
Going back over a session or asking yourself questions are both subtle forms of self clearing, and they can cave you into your reactive mind.
Go out and enjoy the world around you. Experience and utilize the full power of your new gains.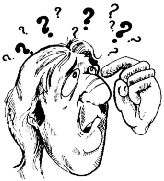 SELF CLEARING
Can

Cave

You

In