Warning: These materials are only to be read and used by students ready for the

Level. To qualify you have to have attested Clear and done Advanced Level 2, Pre-OT Two. The student should also be a trained Solo-auditor.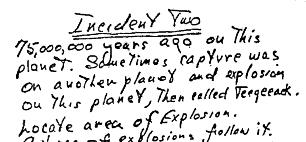 Corner of Ron Hubbard's handwritten Platen for Incident Two.
Fair use quote.

INCIDENT TWO

75,000,000 years ago on this planet. Sometimes capture was

on another planet and explosion on this planet, then called Teegeeack.

Locate area of explosion. (This is done using the volcanoes List)

(Pictures of explosion follow.)

Get original explosion.

Effort to stop usually present.

H-BOMB DROPPED ON VOLCANO

EXPLOSION

TERRIFIC WINDS

THETAN CARRIED OVER PEAK

ELECTRONIC RIBBON CAME UP

HE STUCK TO IT

IT WAS THEN PULLED DOWN AND HE WAS (AS PART OF A GROUP)

IMPLANTED WITH R6

PICTURE OF PILOT SAYING HE IS MOCKING IT UP

R6 materials follow, then DAYS of pictures of God, Devil, etc.
Thetan usually cognites on 'Pilot' or before - or on first

incident - and leaves.

Note: Incident One occurred about 4 quadrillion years ago plus or minus. It is very much earlier than Incident Two which occurred only 75,000,000 years ago (a bit less). Incident Two is only peculiar and general on this planet and nearby stars, whereas Incident One is to be found on all Thetans.

Procedure first published by Ron Hubbard. As it is a procedure it can't be copyrighted.