Warning: These materials are only to be read and used by students ready for the

Level. To qualify you have to have attested Clear and done Advanced Level 2, Pre-OT Two. The student should also be a trained Solo-auditor.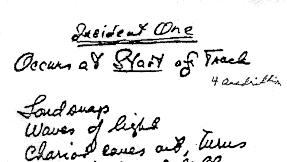 Piece of Ron Hubbard's original handwritten
Platen for Incident One.
Fair use quote.
INCIDENT ONE
Occurs at Start of track (4 quadrillion years ago).
LOUD SNAP
WAVES OF LIGHT
CHARIOT COMES OUT, TURNS RIGHT AND LEFT
CHERUB COMES OUT
BLOWS HORN, COMES CLOSE
SHATTERING SERIES OF SNAPS
CHERUB FADES BACK (RETREATS)
BLACKNESS DUMPED ON THETAN
Effort to stop must be gotten off (sometimes to hurry).
Run as an Engram.
Note: Incident One occurred about 4 quadrillion years ago plus or minus. It is very much earlier than Incident Two which occurred only 75,000,000 years ago (a bit less). Incident 2 is only peculiar and general on this planet and nearby stars, whereas Incident One is to be found on all Thetans.
Procedure first published by Ron Hubbard. As it is a procedure it can't be copyrighted.